Cooperated with the world leading bridge crane manufacturer, the cutting-edge technology connect with the unique fabricating factory, the overall designing technology has reached leading level within both home and abroad. Along with reasonable and optimized design of bridge crane structure, maximum meet the needs in strength, stiffness and stability. To fully satisfying different customer requirements, our company takes full advantages of combining crane design with site condition, such as fabricate course, testing, transportation, installation and maintenance, possibly make every step easy and individual. In particularly, with computer optimization design box beam, low dead weight effectively reduces the cost in which workshop built with steel structure.
Specifications of Overhead Bridge Crane:
Lifting Catacity
t
5
10/3
16/5
20/5
32/10
Span
m
7.5-22.5
Lifting Height
m
6, 9, 12, 18, 24, 30
Working Class
A3-A5
Electric Hoist
CD/MD
CD/MD
CD/MD
WH164
WH164
Speed
Main hook
m/min
8(0.8/8)
7(0.7/7)
3.5(0.35/3.5)
3.3
3(0.3/3)
Auxiliary
8(0.8/8)
8(0.8/8)
8(0.8/8)
7(0.7/7)
Trolley Travelling
20
20
20
20
20
Crane Travelling
30
30
30
30
30
Steel Track Recommend
38kg/m
38kg/m
38kg/m
43kg/m
43kg/m
Power Source
3 phase 380V AC 50Hz



Features of Overhead Bridge Crane Design:
LDA model single girder overhead traveling crane(single girder bridge crane) is improved and designed on the basis of LD model overhead crane.
This overhead crane (bridge crane) is characterized by more reasonable structure and higher strength steel as a whole, the main beam and end carriage are made by U-section steel plate.
This overhead bridge crane is used together with CD1/MD1 model or HC/HM model wire rope electric hoist as a complete set.
This overhead crane is medium duty class overhead crane, the capacity from 1ton to 20 tons. The span from 7.5m to31.5m, the working grade is A3-A4. Working temperature within -25 to +42 centigrade.
Safety Device of Bridge Crane:
Mechanical
Electrical
No.
Item
No.
Item
1
Overload Limiter
1
Main isolating switch
2
Limit Switch (Lifting and Traveling)
2
Short-circuit protection
3
Interlock protection device
3
Under-voltage protection
4
Buffer
4
Zero protection
5
Rail tongs, Anchor device
5
Motor overload protection
6
Rail clear plate
6
Emergency stop system
7
Protective cover
7
Current overload protection system
8
Bus Bar preventer plate
8
Security chain protection
9
Anti-collision device
9
Ground protection
10
Anti-overturn Safety Device
11
Anemometer


Applications of Bridge Crane: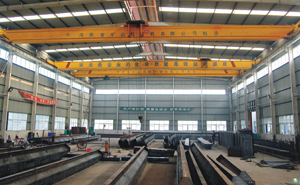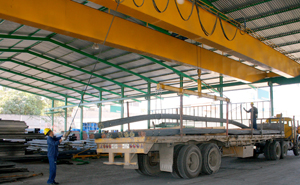 This overhead crane (bridge crane) is widely used in plants, warehouses, material stocks to lift goods. It is prohibited to use the equipment in the combustible, explosive to corrosives environment.