Floor Mounted Jib Crane & Wall Jib Crane for Sale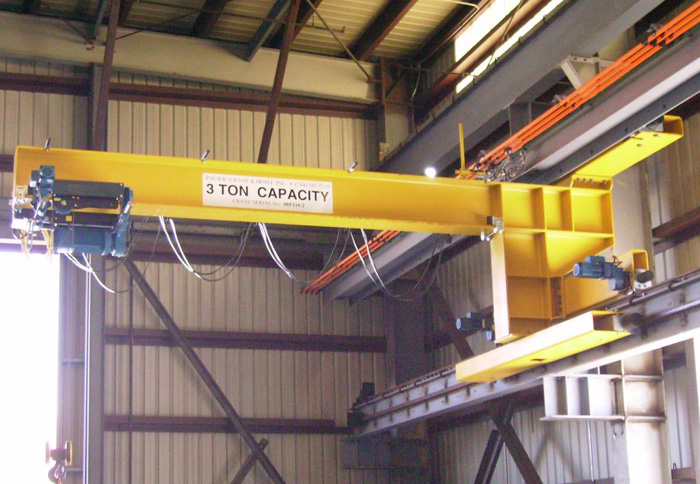 Wall Traveling Jib Crane
We offer 360& 270& 180 Degree Rotation floor jib crane and wall jib crane and they mount easily to any substantial structural steel building column, at any desired height.
Duty group: Class C (intermediate)
Lifting capacity: 0.5-20t
Valid radius: 4-10m
Hoisting speed: Single/ double

Applications of Jib Crane from Manufacturer:
The most common applications for jib cranes are individual workstations, machine tools, welding/fabrication stations, and some small assembly stations.
They are also often designed and used in simple loading / unloading operations where it is not necessary to spot a load precisely.
Jib cranes most often handle lighter loads at lower duty cycles than their bridge and gantry crane counterparts.
If there is a need for precise locating of heavy loads, a large area of hook coverage, or frequent use for heavy loads, the jib crane may not be the best solution.
Jib Crane Specifications:
Model
BZ0.5
BZ1
BZ2
BZ3
BZ5
Lift capacity
t
0.5
1
2
3
5
Max Lift height
m
3
3
3
4
4
Max. horizontal throw
m
2.6
3-4
2.9-3.9
3.8
3.7
Max. radius of gyration
m
3.6
4-5
4-5
5
5
Max. overturning moment
t/m
3
6
12
18
27
angle of revolution
degree
360
Lift speed
normal
m/min
8 (4)
slow
m/min
0.8 (0.4)
Travel speed
m/min
20
angle of revolution speed
m/min
1
0.75
0.7
0.9
0.6
Safety Device of Jib Crane:
Overload protection device
Top quality long time bearing polyurethane materials buffer
Crane traveling limit switch
Voltage lower protection function
Emergency stop system
Lifting height limit device
Jib Crane Hoist for Sale: