Electric Scissor Lifting Platform for Sale
Performance of Electric Scissor Lifts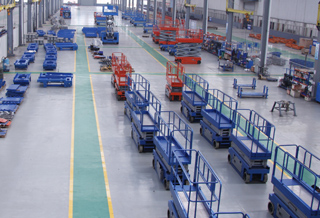 Reliability and versatility, enhance efficiency.
Excellent mobility.
Compact body can easily pass through single and double channel doorway, using non-marking solid tire.
Special locations.
Feature of low noise is perfectly suitable for the noise-sensitive environment, such as office buildings, shopping malls, hotels, schools,etc.
Compact and flexible.
Most models are equipped with zero inside turning radius capability, can be easily and flexibly operated in crowed working conditions such as construction site,elevator, and narrow corridor.
Lift-down, turning, forward and backward movements can be easily operated by one person.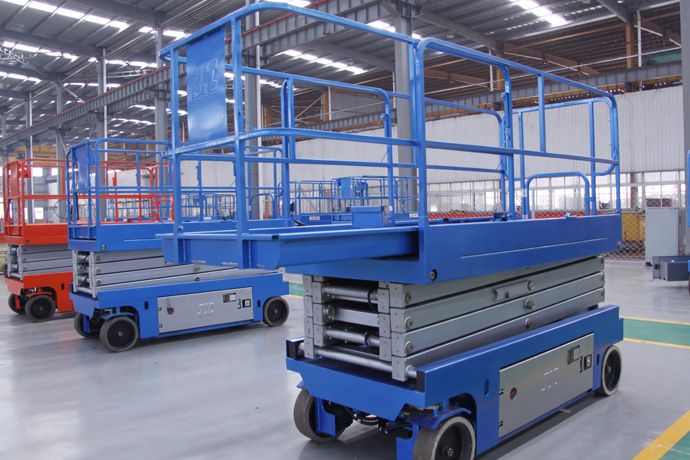 An Introduction to Self-Propelled Scissor Lifts:
Electric scissor lifting platforms, also known as aerial work platform, are a mechanical device used to provide temporary access for people or equipment to inaccessible areas, usually at height. They are generally used for temporary, flexible access purposes such as maintenance and construction work or by firefighters for emergency access, which distinguishes them from permanent access equipment such as elevators. They are designed to lift limited weights, although some have a higher safe working load. They are usually capable of being set up and operated by a single person.----From Wikipedia
Regardless of the task they are used for, electric scissor lifting platforms may provide additional features beyond transport and access, including being equipped with electrical outlets or compressed air connectors for power tools. They may also be equipped with specialist equipment, such as carrying frames for window glass. Underbridge units are also available to lift operators down to a work area.
Besides electric scissor lifts, we also provide rough terrain scissor lifts, self-propelled boom scissor lifts, traction scissor lifts and truck scissor lifts.
Features of Scissor Lifting Platform with Hydraulic System
Automatic pothole protection system
Removeable platform control box
Proportional controls
Slide-out battery trays
All motion alarmHorn
Roll-out deck extensionFork lift pockets, lift from side and rear
Four 6V, 225Amp-hour deep cycle batteries
Tilt cut-oof safety system
Spring-loaded gate
LED battery condition indicator
Specifications of Electric Scissor Lifting:
Product Specifications
GTJZ06
GTJZ08
GTJZ10
Dimensions
Working Height
8.0m
9.8m
11.8m
Platform Height-A
6.0m
7.8m
9.8m
Platform Height Stowed-B
1.13m
1.26m
1.27m
Platform Length-C
2.3m
2.48m
2.55m
Platform Extension Length
0.9m
0.9m
0.9m
Platform Width-D
0.85m
0.85m
1.15m
Height Stowed-E
2.35m
2.47m
2.42m
Length-Stowed-F
2.3m
2.48m
2.55m
Overall Width-G
0.85m
0.85m
1.15m
Wheel Base-H
1.88m
1.88m
2.12m
Ground clearance-I
0.1m
0.1m
0.09m
Productivity
Guardrail Height
1.0m
1.0m
1.0m
platform Dimensions
2.3×0.84m
2.3×0.84m
2.55×1.15m
Platform Capacity
320kg
250kg
450kg
Platform Extension Capacity
120kg
100kg
120kg
Lift-up
40s
40s
60s
Lift-down
25s
25s
40s
Maximum Drive Height
6.0m
7.8m
9.8m
Weight
2100kg
2210kg
2500kg
Ground Bearing Pressure
6.05kg/cm2
6.15kg/cm2
7.38kg/cm2
Chassis
Drive Speed (Platform Lowered)
0-3.2km/h
0-3.2km/h
0-3.2km/h
Drive Speed (Platform Elevated)
0-0.8km/h
0-0.8km/h
0-0.8km/h
Turning Radius Inside/Outside
0m/2.02m
0m/2.02m
0.26m/2.5m
Grade-Ability
25%
25%
25%
Maximum Tilt
3°
3°
3°
Non-marking Solid Tires
406×125mm
406×125mm
406×125mm
Power Source
Battery
6V×4/225Ah
6V×4/225Ah
6V×4/225Ah
Charger
30Aautomatic
30Aautomatic
30Aautomatic
Hydraulic Reservoir
16L
16L
16L

Applications of Electric Scissor Lifts: