Mobile Traction Scissor Lifts
Mobile traction scissor lifting platforms take advantage of external force to make lifting equipment, with three-phase power or diesel-powered, moving fast and convenient, good for long-distance operations.
Electric and mobile scissor lifting platforms are suitable for all construction sites, brick work, paint job, glass cleaning, fixing and maintenance, decoration in high rise, transforming the goods between shells, producing shells, production line for different height in warehouse, bridge, elevated work and so on.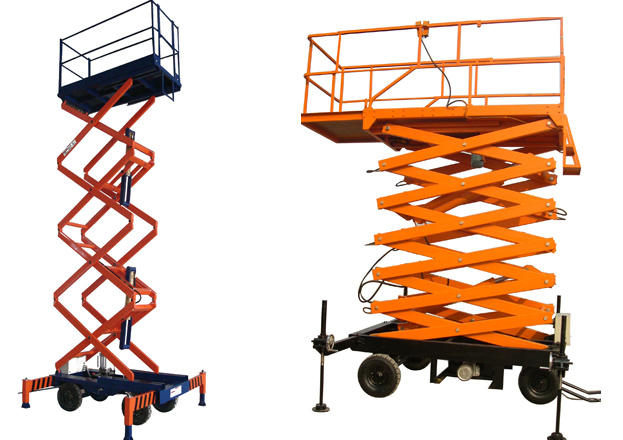 As one convenient lifting equipment, mobile traction scissor lifts have electric up-down switch and auto up-down switch, the worker on the ground or on the table can control the up and down of the table. Lift table is equipped with hydraulic pump used for no power circumstances, the cylinder of this table has the unloading control value, when the hydraulic system is out of work.
Specifications of Mobile Traction Scissor Lifting Platforms:
Programs
Specifications & Parameter
Unit
Specified capacity
500
300
kgs
Max height of table
14000
6000
mm
Min height of table
1800
950
mm
Dimension of the table
2600*1500
1780*840
mm
Direct current
220v/440v
v
Alternation current
380
380/50Hz
v
Motor
4
1.1
Kw
Elevation Time
132
54
Sec
Out ward dimension
2800
620
Length mm
1600
370
Width mm
14000
6000
Height mm
Total weight
2500
750
kgs

This mobile traction scissor lifting platform is useful in all industries, construction sites, building maintenance, glass cleaning, railways, defence, police, fire dept, disaster management, bridge worth, house kepping, malls and so on.